Paint Protection Film Services
Our paint protection film services in Santa Clarita provide an excellent option for keeping your car looking great
Paint Protection Film in Santa Clarita
Maintaining Your Vehicle's Color and Shine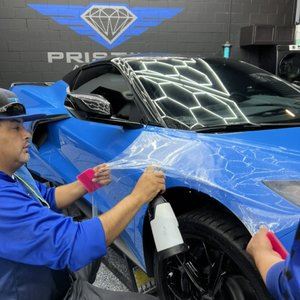 With paint protection film, you can be sure that your vehicle will look great for years. The wrap protects your car's exterior from scratches and discoloration. With its nearly invisible finish and minimal maintenance requirements, the film will allow your style to show through. Our commitment to preserving your vehicle's aesthetic allure while safeguarding it from the challenges of the road is unparalleled.
With the advanced technology of Paint Protection Film (PPF), we bring you a revolutionary solution that shields your car's paintwork from scratches, rock chips, UV rays, and environmental contaminants. Our expertise in PPF application ensures a seamless, nearly invisible layer of protection that maintains the pristine finish of your vehicle. Explore the world of ultimate defense for your automobile's beauty with Pristine Auto Care.
At Pristine Auto Care, we offer paint protection film services in Santa Clarita. Our professionals will attend to every detail and treat your vehicle with care as we provide solutions to protect the paint and exterior surfaces.
---
Start taking advantage of paint protection film's benefits by contacting us at (661) 766-5774 today. Pristine Auto Care provides quality paint protection film services in Santa Clarita!
---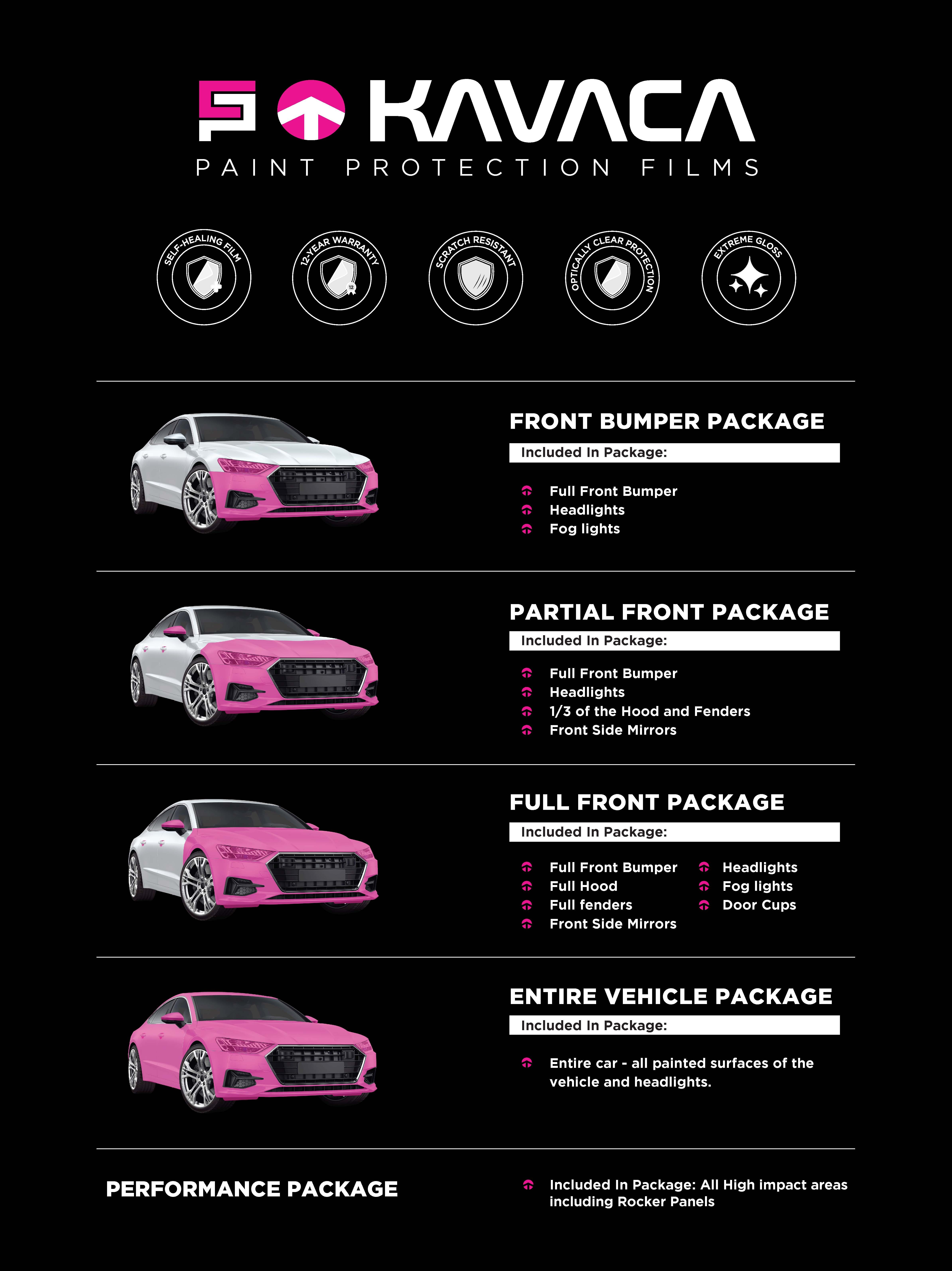 What Is Paint Protection Film?
Paint protection film, commonly known as PPF, is an automobile paint care system providing a clear, non-yellowing protective shield over the car's painted surfaces. Also referred to as a clear bra, its primary function is to guard your vehicle against damage caused by road debris, bird droppings, and other substances. As a result, your car will keep its shine for longer!
The clear wrap goes above and beyond the limits of traditional car waxing. It is designed to protect your vehicle's paintwork without altering or changing its exterior appearance. PPF can be applied to painted surfaces on the outside of your car, including hoods, bumpers, and side mirrors. Plus, this paint protection system comes with multiple finishes, allowing you to find something that suits your exact style.
How Does Paint Protection Film Work?
PPF is a thin, transparent layer made from high-quality polyurethane material. This material is designed to absorb and disperse impact energy, offering defense against scratches, chips, abrasions, and other potential damages that your vehicle's paint could encounter during everyday use.
The material is engineered to have a molecular structure that can recover from minor scratches and swirl marks over time. When exposed to heat, such as the warmth of the sun or the heat generated during regular driving, the film's molecules return to their original state, effectively eliminating the appearance of minor imperfections.
Thickness Matters
PPF comes in varying thickness levels, typically measured in mils (thousandths of an inch). Thicker films offer enhanced protection against larger impacts, while thinner films are often used for less vulnerable areas. Our experts can guide you in choosing the right thickness for your specific needs, striking a balance between protection and aesthetics.
UV Radiation and Environmental Shield
In addition to physical impact, PPF serves as a barrier against harmful UV rays that can cause paint fading and deterioration over time. It also guards your vehicle's finish against environmental contaminants like bird droppings, road salts, insect acids, and tree sap, ensuring your car retains its glossy appearance.
Professional Application for Optimal Results
The effectiveness of PPF lies not only in its composition but also in its application. Our skilled technicians at Pristine Auto Care take precision and care in applying PPF to your vehicle's surfaces. Using advanced techniques, we ensure that the film adheres smoothly, without bubbles or imperfections, creating a nearly invisible shield that preserves your car's original appearance.
Paint Protection Film works by combining cutting-edge material science with innovative self-healing properties to create a transparent armor for your vehicle's paint. At Pristine Auto Care, we specialize in applying PPF with meticulous attention to detail, ensuring your car remains protected from the rigors of the road while maintaining its impeccable finish.
The Benefits of PPF
Paint protection film is a great way to keep your vehicle looking like new and protect it from environmental contaminants.
Some of the benefits of PPF include the following:
Increased protection: The wrap protects your vehicle from environmental contaminants. It also absorbs most of the impact from debris on contact to prevent dings, scratches and fading. With self-healing technology, the film will reshape itself to close up scuffs or light scratches.
Clear finish: PPF is nearly invisible once applied and is almost impossible to detect without very close inspection. Our trained PPF installers in Santa Clarita ensure that the film is aligned with your vehicle's covered surfaces, eliminating distortion, seams, or wrinkles.
Wide application area: You can cover most of your vehicle's exterior surfaces. At Pristine Auto Care, we offer several coverage packages, including the following:

Partial front, covering the hood, fenders, full front bumper, and backs of the mirrors.
Full front, covering the full hood and fender, full front bumper, headlights, and backs of the mirrors.
Track, covering the full hood, fenders, front bumper, rocker panels, headlights, and backs of the mirrors.

Easy care: You won't have to change how you take care of your car after PPF is applied. You can wash and wax it as usual, just being careful not to lift the edges during the detailing process. Still, substances can be easily wiped off the PPF with a cloth.
Great for most vehicle types: PPF can be applied to all kinds of vehicles, including cars, trucks, vans, SUVs, and boats.
---
Schedule an appointment for paint protection film in Santa Clarita by calling us at (661) 766-5774 or contacting us online today.
---
Related Blog:
Mobile Service At Your Home or Office

Same Day Appointments Available

Quick Responses and Timely Scheduling

Phenomenal Reputation

Locally Owned & Operated

Above & Beyond Customer Service
"Highly Recommend! Best customer service and ceramic coating installer I've ever had an experience with personally!"

"Fantastic job. Our RV looks better than when it was new."

"I highly recommend Axel and his team at Pristine Auto Care. From a wash & wax, a complete detail, and the ultimate ceramic coating!"

"I brought a 97 Lincoln Mark VIII to him for ceramic coating. I'm telling you. I could never get it this nice. Treat yourself. Protect your investment."

"Pristine Auto came to my house and two gentlemen worked on it for a couple of hours. When I got my car back it looked like the original showroom shine."
Contact Us for a Free Estimate