Fleet Detailing Services in Santa Clarita
Get Your Fleet into Great Shape with Mobile Detailing Services in the Santa Clarita Valley
The reputation of your business is not only dependent on the physical establishment itself but is carried from location to location by all the vehicles you use. This is why it is so important to ensure that your staff and employee vehicles are spotless at all times. Whether you are seeking basic carwashes or total auto detailing for your company trucks, cars, loading vans, or any other vehicles, it is a great idea to get in touch with our team at Pristine Auto Care. We offer full fleet detailing services in Santa Clarita that can have your automobiles gleaming in no time at all.
Speak to us now at (661) 766-5774 to present the reliability of your company's image to all of Santa Clarita with thorough detailing care.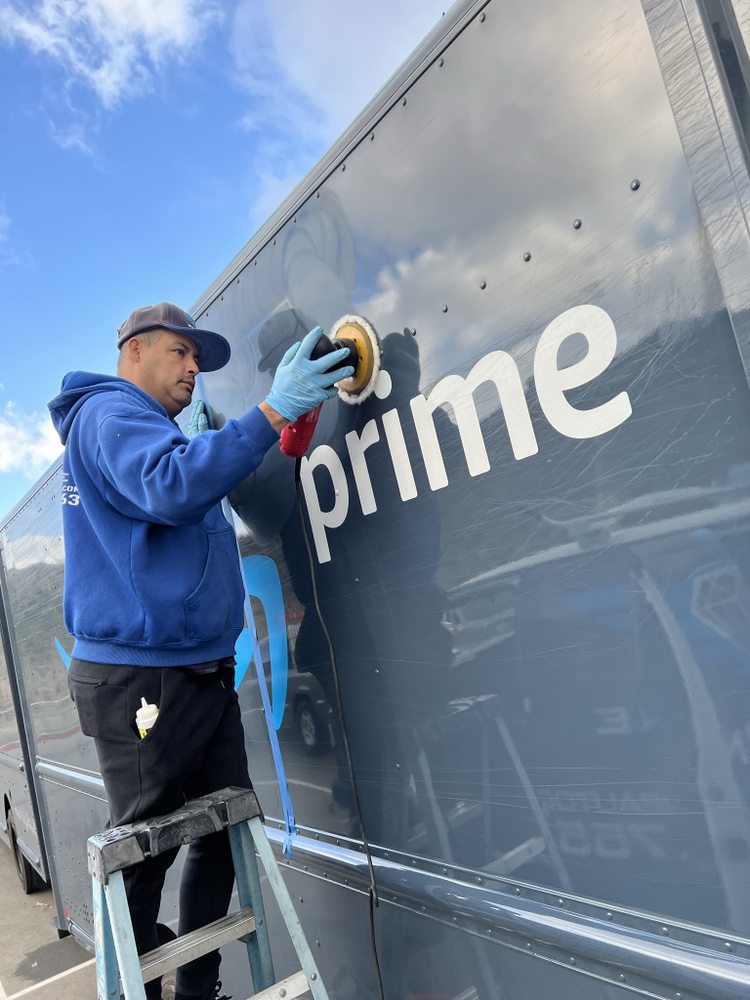 How Fleet Detailing Will Benefit Your Whole Company

As someone who operates a large business or organization, you will always need to weigh the pros and cons of every decision in how it will profit your commercial enterprise both now in the future. Arranging for fleet detailing is truly one of the best ways of instantly contributing to the success of your whole operation. A few of the many advantages of fleet detailing include:
Boosting your commercial establishment's image

Your trucks, vans, and other vehicles are the best form of free advertising on the road, representing the identity and values of your whole company to the rest of the world. If your vehicles look stellar in their upkeep, this will demonstrate your superior professionalism to anyone driving by.

Decreased amount of maintenance

Your vehicles' lifespans will instantly be lengthened by arranging for professional detailing. All the amount of driving through various types of inclement climate conditions, from rain to hail to salt for de-icing, means that your trucks will quickly succumb to damage without restorative care.

Increased safety for your employees

Even though they may be small, little particles of grime and larger pebbles, bits of glass, and asphalt can easily become trapped over time in the inner workings of your company's vehicles, leading to dangerous malfunctioning parts. If cracks are obscured by mud and grime, this will also hinder your vehicles' integrity. To ensure your staff's safety, always invest in routine detailing maintenance.
With Our Fleet Wash Services, Your Fleet Will Look BRAND NEW

Mobile Service At Your Home or Office

Same Day Appointments Available

Quick Responses and Timely Scheduling

Phenomenal Reputation

Locally Owned & Operated

Above & Beyond Customer Service
"Highly Recommend! Best customer service and ceramic coating installer I've ever had an experience with personally!"

"Fantastic job. Our RV looks better than when it was new."

"I highly recommend Axel and his team at Pristine Auto Care. From a wash & wax, a complete detail, and the ultimate ceramic coating!"

"I brought a 97 Lincoln Mark VIII to him for ceramic coating. I'm telling you. I could never get it this nice. Treat yourself. Protect your investment."

"Pristine Auto came to my house and two gentlemen worked on it for a couple of hours. When I got my car back it looked like the original showroom shine."
Greater Affordability Through Fleet Detailing
Because the initial cost of maintaining company cars, vans, and trucks can seem quite expensive, some businesses forgo detailing altogether. Not only does this lead to decreased safety for their employees and result in overall damage of the company image, however, but such neglect actually costs more in the long run.
Think of investing in reliable fleet detailing as a means of investing for the future. You will not need to buy expensive replacement parts or even entire replacement vehicles, since your current fleet will stay in good condition. Moreover, you will be able to demonstrate to customers how much you care about your staff and overall company standards.
If you are looking to learn more about our comprehensive care for fleet detailing services in Santa Clarita all you have to do is reach out to us today at (661) 766-5774 or contact us online for help from our dedicated technicians at Pristine Auto Care.
Contact Us for
a Free Estimate